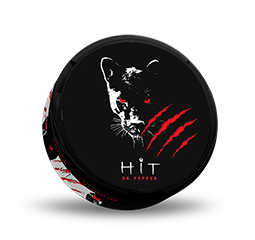 HiT Dr. Pepper Slim All White Portion
HiT Dr. Pepper is a white, tobacco-free product of extremely strong nicotine content with the classic taste of the legendary Dr. Pepper soda.
Right from the fountain drinks of yesteryear, this classic taste combines the cherry flavoring and fan favorite of Dr. Peppercorn. If you like the drink, give this pouch a try!
Slim bag format with a comfortable and discreet fit behind the lip. Appr. 20 portions/can