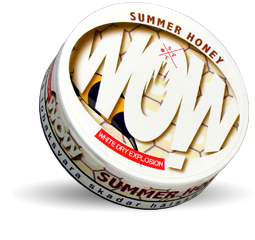 WOW! Summer Honey Explosion White Dry 17g
Exciting chewing tobacco blend made from hand picked tobacco with warm flavors of honey, lemon and elderflower.
Extremely strong nicotine experience in unmoistened chewing portion bags and with lower tobacco moisture. Runs even less than regular 'White' bags – and keeps the flavor even longer.
Regular size for that well known feeling behind your lip. Appr. 20 portions/can